Er zijn erg veel vervoersmiddelen tegenwoordig om snel door het land heen te komen. Je kunt met de auto, de bus, de trein, de taxi. Wat betreft de tijd dat je vertrekt vanaf Schiphol en aankomt zijn de auto en de taxi het meest flexibel, omdat je bij het openbaar vervoer vast zit aan vertrek- en aankomsttijden en de tijden van het vliegtuig hier ook op aan moeten sluiten. Maar welke, de auto of de taxi, is de beste keuze als je naar Schiphol gaat?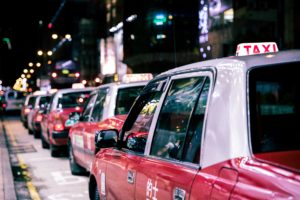 De taxi is natuurlijk de betere optie voor mensen die geen rijbewijs hebben of om welke reden dan ook het niet praktisch vinden om met de auto te gaan. Het kan bijvoorbeeld zo zijn dat u niet zo'n grote auto heeft en het gezelschap boven het aantal zitplekken in uw auto uitkomt. Dan is de taxi natuurlijk wel een aanrader.
De echte keuze komt natuurlijk pas bij de mensen voor die zowel met de auto kunnen reizen als met de taxi. Er zijn een aantal factoren waar goed rekening mee gehouden moet worden al moet je deze keuze maken. Het is goed om te vermelden dat Schiphol zelf een taxidienst heeft waarvan je gebruik kan maken. Deze dienst rijdt naar Schiphol vanaf je huis, maar uiteraard ook andersom.
Bij zowel de auto als de taxi werken de kosten hetzelfde: het wordt steeds hoger naar mate de afstand tussen de twee reispunten hoger is. Er valt wel te stellen dat de kosten van een taxi hoger zijn dan van uw eigen auto, hoelang de afstand dan ook is. Dat is eigenlijk ook wel logisch, aangezien als u met uw eigen auto reist u alleen moet betalen waar de auto op rijdt. Voor een taxirit betaalt u dit echter ook alleen daarbij komen dan nog extra kosten zoals het loon van de chauffeur. De reiskosten van de auto kunnen echter wel variëren afhankelijk van welke auto u heeft en bij welk tankstation u tankt (of waar uw auto dan ook op rijdt). Alsnog is het onwaarschijnlijk dat u boven het tarief van een taxi uitkomt. Meer hierover leest u op: www.schiphol.nu
Het klinkt dus alsof met uw eigen auto gaan de betere optie is. Qua geld zal het vast de betere optie zijn, maar toch heeft een taxi ook zeker zijn voordelen. Ik kan me heel goed voorstellen dat als u net geland bent u niet meer helemaal de energie en zin heeft om zelf terug naar huis te rijden. En zo kunnen er misschien nog wel meer redenen zijn waarin het voor u beter voelt als u gewoon lekker de taxi neemt. En natuurlijk is daar helemaal niks mee.