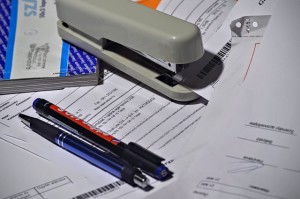 Een sterke en gezonde onderneming opbouwen. Het is iets dat veel ondernemers willen. In Nederland zijn er redelijk veel ondernemers te vinden. Sommige hebben grote bedrijven met personeel in dienst, anderen zijn zelfstandige en verhuren zichzelf aan andere bedrijven of aan particulieren. De meeste ondernemers werken met levering op factuur.
De diensten of goederen worden geleverd en er wordt vervolgens een factuur opgemaakt. Deze dient dan volgens de betalingstermijn voldaan te zijn. In veel gevallen gebeurd dit netjes op tijd, maar het komt ook voor dat dit langer op zich laat wachten. De factuur blijft dus open staan. In de meeste boekhoudpakketten is dit een functionaliteit om een herinnering te verzenden.
De klant wordt vriendelijk herinnerd aan het feit dat de factuur nog niet voldaan is. Dat de betaling van een factuur soms wat langer op zich laat wachten, dat kan gebeuren. Het hoort er een beetje bij. U betaald misschien zelf ook wel eens een factuur te laat. Het kan voorkomen. Als een factuur echter veel langer blijft openstaan, dan is het wellicht tijd voor andere maatregelen.
Een incassobureau inschakelen voor hulp bij de incasso
Na het versturen van meerdere herinneringen kan het soms voorkomen dat een klant nog steeds niet betaald. Ook als er geen reacties komen van de debiteur en er niet word gereageerd op telefoon of e-mail, dan kan de volgende stap worden overwogen, het uit handen geven aan een goed incassobureau.. Dit zijn bedrijven die zich specialiseren in het incasseren van rekeningen van andere mensen en bedrijven. Zo zijn het voornamelijk bedrijven die hier vorderingen uit handen geven, maar ook particulieren maken in sommige gevallen gebruik van de diensten. Denk bijvoorbeeld aan een partner die de alimentatie niet op tijd voldoet.
Een externe partij inschakelen voor uw incasso opdrachten, kan veel opleveren. Een externe partij maakt vaak wat meer indruk op een debiteur en mensen willen vanzelfsprekend niet met schulden blijven zitten. Het incassobureau zorgt ervoor dat er brieven verzonden worden naar de klant en in sommige gevallen wordt er ook via de telefoon contact gelegd. De factuur + bijkomende incasso kosten moet aan het incassobureau worden overgemaakt. Zodra dit binnen is wordt het vervolgens aan u overgemaakt.