Wat je vaak bij kleinere bedrijven ziet, is dat de ondernemer of eigenaar de administratie helemaal zelf doet. Ergens wel te begrijpen natuurlijk. Zeker in het begin willen bedrijven al het geld gebruiken om te groeien. En door de administratie helemaal zelf te doen, kun je kosten besparen.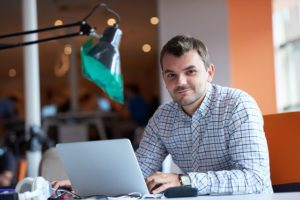 Vaak wordt hier door de ondernemers software voor gebruikt. Het is eenvoudig om het dan zelf te doen. Toch neemt het vaak wel enkele uren per week in beslag, afhankelijk van de hoeveelheid mutaties die er gedaan zijn.
Ondernemers zien vaak door de bomen het bos niet meer op dit gebied. Het is echter wel van groot belang dat u hier aandacht aan besteed. Met de juiste financiële informatie beschikbaar, kun je namelijk beter ondernemen. Je weet precies of je bijvoorbeeld nog nieuwe voorraad in kunt kopen en of je een nieuw personeelslid kunt toevoegen aan je bedrijf. Daarbij is de salarisverwerking uitbesteden vaak wel handig om te doen. Je hebt er dan geen omkijken naar en het wordt automatisch geregeld.
Er is natuurlijk ook altijd de optie om de administratie uit te besteden, bijvoorbeeld een administratiekantoor kan hierbij hulp bieden. Dit is wat ons betreft een zeer verstandige keuze. Natuurlijk kun je het als ondernemer zelf blijven doen, de vraag is echter of dit verstandig is. Ja, je kunt hier kosten door blijven besparen.
Maar als de onderneming eenmaal goed loopt, is het misschien wel een stuk verstandiger om te kijken naar andere opties. Je hebt maar 8 – 12 werkuren in de dag zitten (oke, sommige ondernemers maken het nog gekker op het gebied van de uren) en die tijd kun je veel beter besteden aan het uitbouwen van je opdrachtenbestand of het verder bouwen aan je bedrijf. Boekingen invoeren in de administratie kun je wat ons betreft veel beter overlaten aan mensen die zich daarin specialiseren. Een administratiekantoor Amstelveen vinden is overigens niet heel ingewikkeld. Het is een branche waar veel concurrentie in is en je hebt dus genoeg keuze. Nodig bijvoorbeeld eens een aantal administratiekantoren bij je uit om de mogelijkheden door te nemen.